Written By
Share This Post
It's August, which hopefully means you're spending some time flopping about in the water, feeding on lobsters and crustaceans, and lounging lazily in the afternoon sun. But is your summertime personality more like that of a sea lion, or a seal? Let's find out.
Both sea lions and seals, along with walruses, are pinnipeds, which means "fin-footed" in Latin. All pinnipeds divide their time between the beach and the ocean. Sea lions are a part of the Otariidae family, which probably descended from a bear-like ancestor; seals are a part of the Phocidae family, whose descendants were more of the weasel type. Here's what this actually means, in terms of the differences between them:
FEET: Seals have small and stubby flipper-feet that are covered with a thin layer of webbing. Each of their small toes has a little claw on it. Sea lions have much longer, more elegant-looking flippers, and they're mostly covered with skin.
EARS: Sea lions have small flaps for ears; seals have no external ears at all, just little holes on each side of their head.
NOISINESS: Sea lions are noisy! They love to bark and bellow and growl and roar. Seals are much quieter, usually vocalizing in softer moans and grunts.
MOBILITY: Sea lions can "walk" on land by rotating their hind flippers forwards and underneath their bodies, allowing them to support themselves on all four feet. Seals do not have this special flipper joint, so they're limited to belly flopping/caterpillaring around, like this: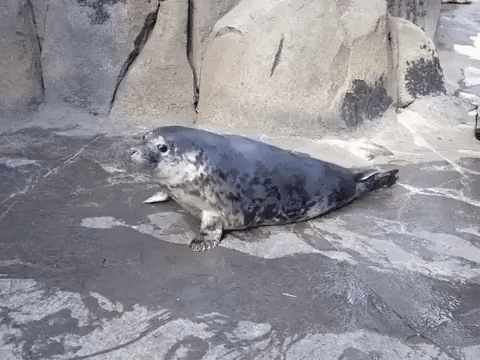 In the water, seals swim by moving their back flippers side to side, like a fish tail. Sea lions swim using their front flippers as oars, moving them in a more up-and-down motion.
SOCIABILITY: Sea lions love to hang with their friends on the beach; they congregate in squads of up to 1,500, lolling and lazing about in piles on the sand. (Walruses do this too—check out this crazy live walrus cam!) Seals are more solitary, spending most of their time alone in the water and only coming to land once a year to mate.
Here are some more fun pinniped facts, because why not:
Walruses are the largest pinnipeds, with some males weighing up to 3,000 pounds. They have mouths that act as a vacuum and suck up shellfish from the ocean floor. They also have air sacs in their necks that can inflate and allow them to float, like built-in life vests.
Sea lions can swim at speeds of up to 25-30 miles per hour. Seals can swim up to 23 miles per hour.
You can tell a sea lion's age by counting the layers in his or her teeth, like a tree trunk. The average lifespan is 20 years, though some can live into their 30s.
Both sea lions and seals have a polygynous mating system, which means there are multiple females per male. A dominant male seal will usually have three to eight females in his clan; the average male sea lion will have ten.
Seals can sleep underwater! They also can slow their heartbeat and hold their breath for long periods of time in order to conserve oxygen.
So…which pinniped are you? (I'm definitely a walrus.)
If you liked this, subscribe to the What's the Difference newsletter here!